The following is a documented lesson plan for our multimedia project on stress relief:
Goal: Our goal is to provide learners with different methods for relieving stress in their everyday lives.
Learning Outcomes: By the end of this lesson, learners will gain knowledge on several simple and effective activities to do that will help them feel more relaxed. They will also understand the benefits of stress relief. More specifically, learners will be able to:
Understand the importance of stress relief
Practice meditation involving a focus on breathing
Have options for exercises that can relieve stress
Gain knowledge on tips for sleeping well
Know how journaling can help when overwhelmed
Prior knowledge:
It may be beneficial for learners to have a previous experience with meditation, since the delivery of the content on meditation will not be extremely in-depth.
Anyone who is wanting a few tips on ways to reduce stress can watch our presentation as it intended for anyone to try.
Delivery:
Infographic created using Canva:

Five tips that can aid learners with meditation techniques

Planning a time for meditation routine
Sitting with good posture in a comfortable position
Deep breathing
Focus on breath and movement of breath in the body
Be kind and note any distraction as a thought or feeling

Each of these tips will have corresponding images
Slideshow presentation with narrated video

Information on why it's good to relieve stress
How exercising, journaling, sleeping well and yoga will help reduce stress levels when practiced
After creating this lesson plan, we began developing multimedia content to achieve our goal and learning outcomes.
First is the following infographic titled "Tips for Meditation".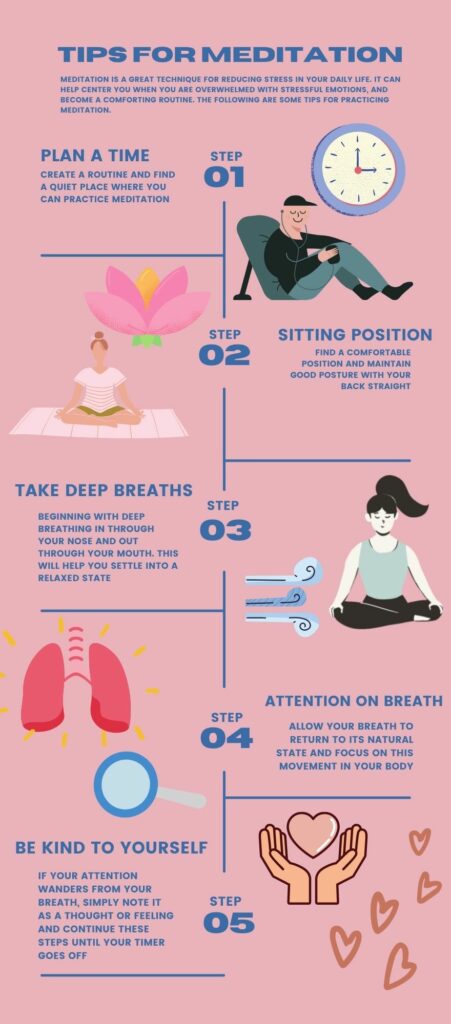 When creating this infographic, I (Beth) kept the following multimedia learning principles in mind in order to effectively transfer knowledge.
Coherence principle – Each step in the infographic is fairly short and simple which will keep help maintain a low cognitive load.
Contiguity principle – Each step has corresponding and relevant images.
Segmenting principle – Breaking the information into five steps is helpful so learners can stop and reflect on what they have read.
Learner control principle – The infographic allows learners to read the information at their own pace.
Signalling principle – This principle is followed in the infographic because the numbered steps will help the reader easily understand the organization of essential material.
Next, a slide presentation and video was created.
As I (Aliocha) created the slide presentation video I made sure to follow along with multimedia learning principles to ensure efficient learning outcomes.
I made sure to make each slide's information clear and simple as humans learn best when distracting material is not included. This followed the Coherence Principle.
I also made each slide title and key points obvious so that learners know exactly what to pay attention to. This followed the Signaling Principle. 
For the video narration process I made sure not to put too much text on each slide and to add points as I talked. I did not want to overpower my presentation by adding a lot of text as well as narration. This followed the Redundancy Principle.